The event will feature silent auction, wine & food,
music, door prizes and more!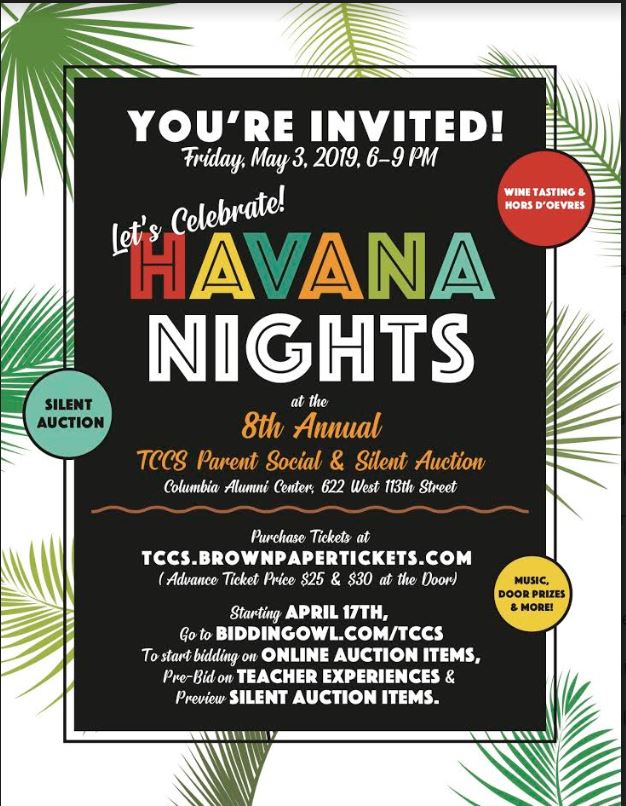 GET YOUR DONATION ITEMS IN (due by APRIL 5TH), BUY YOUR TICKETS!!
*Start Bidding: 4/17/19
We need donations to make the event a success. We are requesting that donations be submitted as soon as possible, but by no later than April 5th!
IDEAS: Restaurant gift certificates, tickets to shows / sporting events, vacation homes, spa treatment, kid activities (lessons, parties, etc.) are all great!
Below, please find a list of auction items that have done well in the past. Attached is a donation request letter and donation form that you can use. Letters and Forms will also be available in the Main Office in both the Lower & Upper School.
Past Auction Items:
• 12 Week Arts Encounter class at NDI (National Dance Institute)
• Teacher & Principal Experiences including Student Principal for a Day
• Tour of the Apollo Theater followed by lunch
• Tickets to Hamilton Broadway Show
• 1 Week Summer Camp at HYPOTHEkids (Hk) summer camp
• Aloft Harlem Hotel—2 Night Weekend Stay
• Sports Massage
• Weekend Getaway in the Berkshires
• Intimate Dinner Party & Wine Pairing for 8 catered and staffed by Peppered Moon Food & Events
We Need Volunteers!!
Want to help? We are looking for folks to help with all aspects of the event including graphic design, catering (including wine), selling tickets, decorating and day of the event set up & clean up and anyone interested in learning how to run a silent auction!
*CONTACT INFO: Marianne Soohoo (mariannesoohoo@gmail)
Ji Young Lee (jileeoplover71@aol.com) or the TCCS PA (paboardtccs@gmail.com)
to let us know how you can pitch in!
Some highlights from last years Harlem Nights themed social…